skip navigation
Bee Removal Houston Texas
Back
/ Bee Removal Houston Texas
Beekeeping

is Tough Business
Bee Removal Houston Texas
Welcome to the Houston Honey Bee Rescue Bee Removal and Swarm Removal
Honey Bee Rescue in Houston – Bee Removal and Swarm Removal Service by Beekeepers
Houston Honey Bee Rescue serves the greater Houston area as a professional live bee removal company run by bee keepers. We travel as far north as Conroe Texas for live bee removal as far west as Katy Texas to save the bees s and as far south to Galveston Texas for swarm removal and east to the coast where we produce local honey. Houston Honey Bee Rescue safely removes honey bees using our live bee removal process. The honey bee hive is then put into our apiary by one of our professional pest control specialists located in Tomball Texas.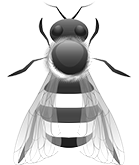 We are local bee keepers specializing in saving the bees.
Schedule a Bee Removal
Expert Bee Control Inspection for Monday or Tuesday?
Let us relocate your bee problem to our apiary.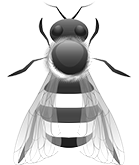 We provide free estimates and quotes in person for all live bee removal at no charge
Schedule a Bee Removal
Expert Bee Inspection Inspection for Monday or Tuesday?
Let us relocate your bee problem to our apiary.
Why are there so many bees living in Houston?
Houston and it surrounding areas are a little kept secret amongst professional and hobbyist beekeepers. With warmer winters professional beekeepers have been known to winter hives during the off season in our rolling grasslands which allows for an earlier spring start and hence more bees than many other areas up north. Texas specifically the southern part is home to the invasive Chinese Tallow Tree (more Below) which during nectar flow can produce more than 5 gallons of honey per hive per week. That is over 20 gallons of honey production per hive! Houston honey bees not only survive but flourish with this bountiful temperature causing multiple swarms of bees, and ease of bee colony survival. Up north bee keepers only get one season spring and summer for honey production and honey harvesting. In Houston if the weather permits (cooler temperatures and rain) we have an excessively long nectar flow and swarm season resulting in more bee colonies for pest control.
Live Bee Removal - Keeping Honey Bees in Houston
The estimated number of wild bees and bee hives in Houston is somewhere over 10,000 bee colonies.
If you need urgent bee removal, swarm removal, or want to speak with one of our bee keepers to discuss hive removal please call us as we are often available after hours.

Bee Removal from your home
Houston Hive Removal

Killer Bee Removal

Houston Wasp Removal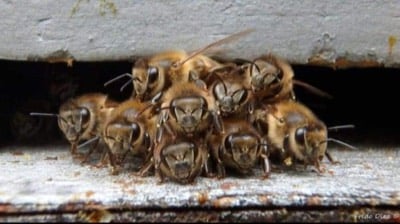 Because honey bees do so well in Houston and surrounding towns such as The Woodlands Texas and Spring Texas. There is a need to remove and relocate many hives each season from rooflines (Bees in my roof) to water boxes. The estimated number of removals/exterminations specifically to Honey bees in the great Houston area is more than 4000 annually. Over 2/3 of these are exterminated by pest control companies each year.
The estimated number of wild bees and bee hives in Houston is somewhere over 10,000 bee colonies.
Here are a few of those reasons identified by the Texas A&M Department of entomology and other sources:
Chinese Tallow Tree
Texas specifically around Houston to and northeast to the coast starting in Sealy and running north east is the location of the Chinese Tallow tree. The Chinese tallow tree was supposedly introduced by Benjamin Franklin in the 1700's and produces a green heart shaped leaf which turns bright red in the fall. The tree also blooms and during nectar flow is one of the top nectar producing plants in the US for native bees and wild bees. Tallow honey bee honey is dark amber rich and more glucose than fructose which tends to crystallize quickly. It has a more distinct flavor and is not as sweet as other local honey as clover honey. Compounded by the higher than average rainfall in Houston honey harvesting from bee hives on tallow produces and his great for the honey bee. Some say the Houston Tallow produce even more nectar and therefore local honey than the Chinese counterparts.
In 2016, Texas produced over eight million pounds of local honey, seven million pounds of this honey harvesting are attributed to the Chinese tallow tree nectar flow which starts from the end of May and runs through June. Many wild bees and species of bees rely on Tallow production in Texas such as our native ground nesting bees. Not only would our local honey bee population suffer without this tree the live bee removal business and local beekeepers would probably significantly reduced making much more difficult for the honeybee colony and bee nest to survive. Where would be without the bumble bees? Did you know yellow jackets and wasps eat honey?
Beekeeper Near Me / Local Beekeeper
If you have questions and are a bee keeper with bee hives, please see our page on diseases of honey bees and how to treat for small hive beetle. Spotting and stopping Hive beetle is part of what makes relocating honey be hives and swarms so difficult.
Honey Bee Rescue Houston (Best Live Bee Removal Service in Houston)
From the smallest bee hives to the infamous Africanized bee we are prepared to do the work for you. Choose a live bee removal company over pest control companies that exterminate honey bees that often charges less than what other beekeepers charge. We remove honey bee colonies from rooflines up to 40 feet and work with all materials to repair the structure to our customers' expectations. We offer lifetime warranty on all work for our bee removal service and the wild bees do not return. Our live bee removal by beekeepers works on all types and races of bees from killer bees, to local honey bees that escaped an urban beekeeper. Please help us save the bees using live bee removal and professional pest control beekeeper.
Bee removal areas we service in Houston
Bee Removal Houston Texas or Beekeeping Questons?


Want to know more about beekeeping in east Texas? Visit us on Twitter,

Facebook

or Youtube.
Sign up to hear from us about Bee Removal Houston Texas specials, sales, and events.
Bee Removal Houston Texas Questions Comments Concerns?

We love to hear from our customers!